We all really like coming to TASC – it keeps us busy and it means we get to mix with our frends and other people. It gives us the chance to learn new skills too, and we all really enjoy that. The holidays are great; we can organise these ourselves and we go to accessible places.
The staff are brilliant and are very supportive when we want to try new things; they always involve us in any decisions about new activities and it's great when people from outside the Centre get involved in what we are doing.
At Inkspot we make calendars and newsletters using the computer. When we are out and about, we take photos of our events and use those in our newsletters which we create three times a year. You can download these here.
The food: the cooks sometimes ask us what we might like to eat and for new ideas for menus. We have a new cook and I think the food has improved recently; we are expanding the menu to introduce some variety into our lunches. We rarely get anything we don't like!
 Candy Bar
We have new printed menus on the tables which allow people to choose what they would like from the Candy Store. Some people can't read so we've introduced a picture menu to make it easy for those people. We are designing a new sign  o brighten up the place and improve the service. We have a rota so that everyone takes a turn running the store, and when you take your turn you get vouchers to 'spend' at the centre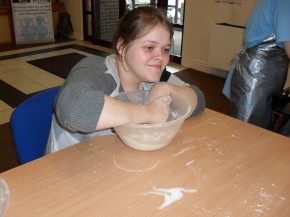 ---